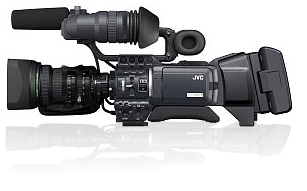 Broadening ProHD's reach with the GY-HD250UThe suggested list price for the GY-HD250U is $8,995. Delivery is expected to begin in October 2006.
JVC expands its ProHD line-up adding 60p and studio capabilities! Like the GY-HD110U,JVC's new GY-HD250U is a full resolution HD progressive camcorder designed from the ground up as a professional camcorder. Building on the unique JVC "compact shoulder" form factor, the GY-HD250 has sturdy professional connectors mounted on a rugged die cast chassis. It offers the comfort and stability of a shoulder style camera with the light weight and maneuverability of a handheld.
60p capture and recording provide high resolution and smooth motion for news and sports
Compact Shoulder Professional form factor
Choice of several lenses
Built-in 14.4V type Battery Mount
External time code sync
HD-SDI output w/embedded audio
Dual-media (tape +HDD)recording with DTE.
Next generation super-efficient MPEG-2 encoding
Genlock
Studio option with CCU
Time code synchronization
Enhanced Cinema Gamma
Composite video input (for pool feed)
BNC connectors
JVC PROFESSIONAL PRODUCTS COMPANY EXPANDS PROHD LINEUP
WITH MULTIPURPOSE GY-HD250U CAMCORDER
State-of-the-Art Features Suit a Variety of Applications
JVC Professional Products Company continues to deliver affordable, high quality HD products to market with the unveiling of the GY-HD250U high definition camcorder. As part of its growing ProHD line, this next generation full HD resolution camcorder is the first HDV model to offer studio capabilities, and features 720/60p capture and recording for electronic newsgathering.
Responding to demand for an affordable studio-capable HD camera, JVC developed the extremely versatile and compact GY-HD250U to ease the transition from SD to HD allowing customers to utilize much of their existing infrastructure—including cabling—while providing robust performance in both standard and high definition. In addition to its studio capability, the GY-HD250U offers the comfort and stability of a shoulder-style camcorder with a full complement of features needed for Electronic News Gathering (ENG), and cinematography applications.
"We designed the GY-HD250U with multiple applications in mind," said Craig Yanagi, National Marketing Manager, Creation Products. "The fact that the camera has flexible connectivity, is lightweight and can record in multiple progressive formats is certain to meet the various needs of the professional industry. The options on this camera are sure to make this the camera of choice for a wide range of studio, facility and field production."
The GY-HD250 records true 1280 x 720 progressive at 60 frames per second thanks to a new advanced codec that provides ultra efficient compression without visible motion artifacts. It has built-in genlock capability, component and HD-SDI output, with professional connectors mounted on a magnesium die cast chassis. The GY-HD250U also features the choice of several interchangeable lenses, enhanced cinema gamma, external time code synchronization, BNC connectors, built-in mount for a 14.4V professional battery, and the patented focus assist feature.
The GY-HD250U offers flexible recording options for any production environment. The camera's built-in HDV recording system records full raster high-definition video on inexpensive MiniDV cassettes. With the optional DR-HD100U Direct-to-Edit™ recorder, a hard disk workflow can be achieved, while simultaneously creating back-up material on digital tape.
Studio Production
The GY-HD250U can easily be converted to a cost effective studio camera with the KY-HD250 studio adapter, following the tradition of the popular GY-DV550U professional DV camera. The camera's optional CCU provides connection to industry standard 26-pin multicore cabling for power, genlock, R/B gain, black level and intercom up to 330 feet. An optional pan and tilt head and 16:9 LCD studio viewfinder make it ideal for educational, religious, cable and broadcast studios.
Electronic News Gathering (ENG)
The GY-HD250U is the affordable choice for news organizations migrating from SD to HD. It's superbly balanced for stable shoulder style shooting, with operation controls placed in positions familiar to electronic photojournalists. Its 60 frame progressive capture and recording provides high resolution and smooth motion, necessary for news and sports field production. The built-in Anton-Bauer battery bracket provides compatibility with the most popular battery systems for ENG. When equipped with the optional DR-HD100U, editing can be performed immediately from the hard disk without time-consuming transfer to the NLE. Other attributes for ENG include lens interchangeability and a pool feed input.
Cinematography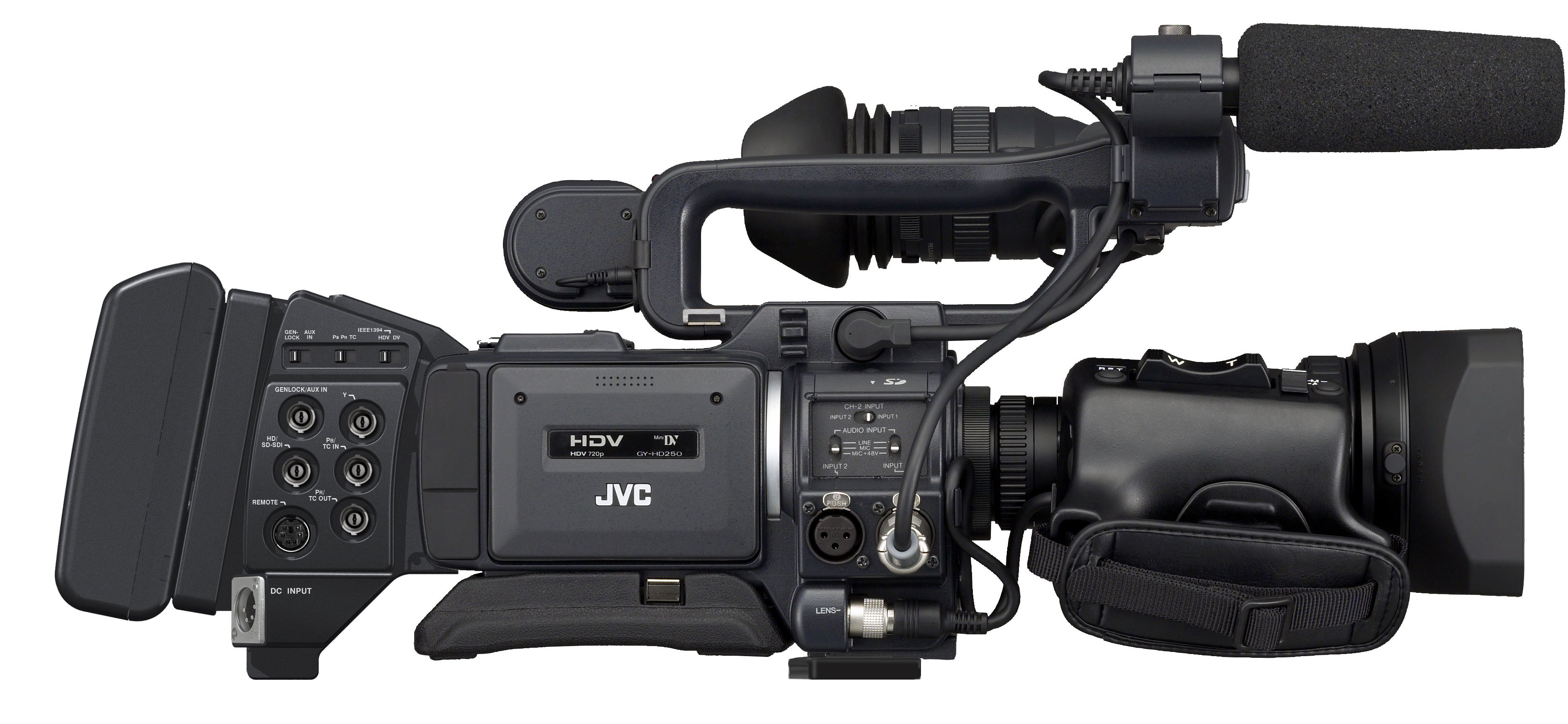 The GY-HD250 captures real 24p and 30p acquisition that produces polished, film-like quality HD recordings. The time code is recorded in native 24p mode, enabling the user to transfer recordings to film for theater distribution with ease. The camera allows for extensive user customization with additional gamma settings for cinema applications. Its 1/3-inch bayonet mount allows the use of various interchangeable lenses from Fujinon, Canon and other third party lenses and accessories.
The suggested list price for the GY-HD250U is $8,995. Delivery is expected to begin in October 2006.
ABOUT JVC PROFESSIONAL PRODUCTS COMPANY
JVC Professional Products Company, located in Wayne, New Jersey, is a leading manufacturer and distributor of a complete line of broadcast and professional equipment. For more information about this, or any other JVC PROFESSIONAL PRODUCTS COMPANY product, contact JVC at (800) 582-5825; or Candace Vadnais at PFS Marketwyse 973-812-8883, ext. 430 or visit JVC's Web site at http://pro.jvc.com.
filmmaking
cinefilm
JVC
HDV
Digital Video